For transporting pallets or crates with towing vehicles at up to 6 km/h. Trains of up to 5 trolleys possible. Maximum tractive weight 3000 kg.For pallets and lattice boxes in European standard sizes. Easy loading and unloading from the side with forklift. Sturdy sectional steel construction with 4 catch corners for stacking. Powder coated as the color you need. 2 swivel and 2 fixed-wheel castors, with robust steel carriages suitable for tugger trains, wheels with PU tyres on aluminium rims, hubs with precision ball bearings. Swivel castors with wheel locks. Tyres are non-marking (trackless). Low-noise running on even flooring. Capacity 1000 kg. This coupling system guarantees the best possible directional stability. Tractors must have front wheel steering and tugger train drawbar! Max. 5 pallet dollies per train. Max. train speed 6 km/h. Max. train weight 3000 kg. Self-securing flat steel drawbar on the fixed-wheel side. Comfortable foot operation. Automatically rebounds into vertical resting position by means of gas spring.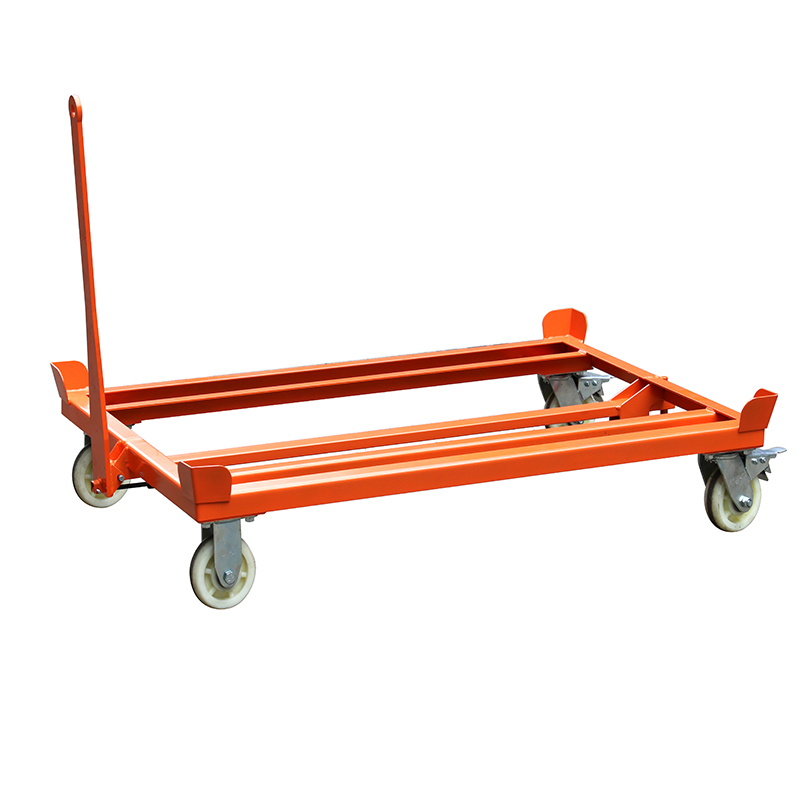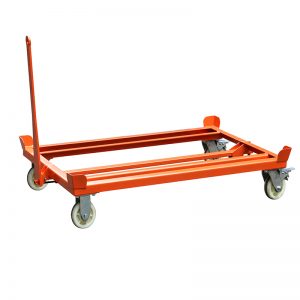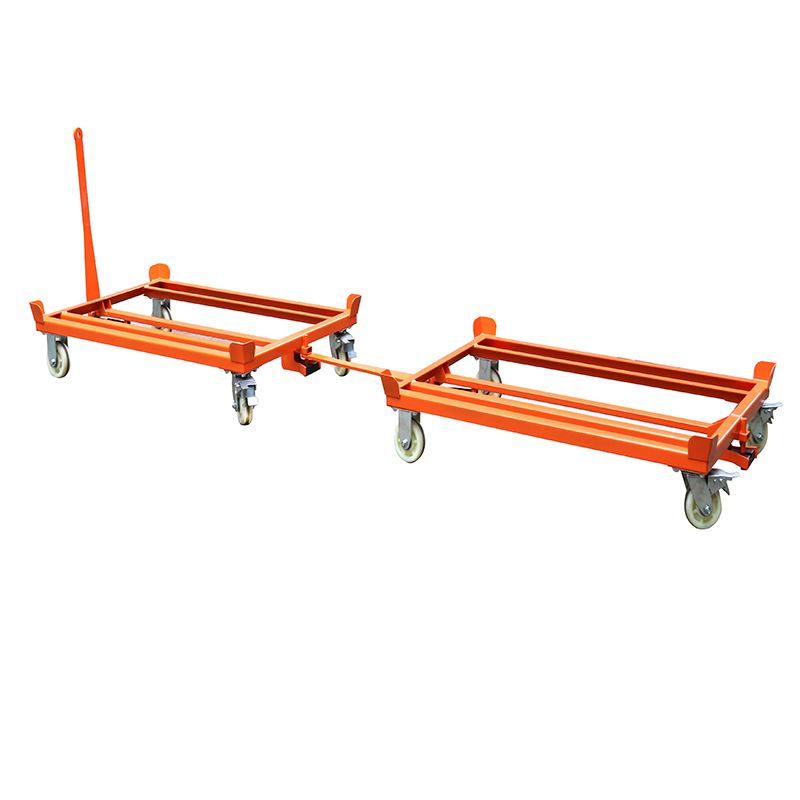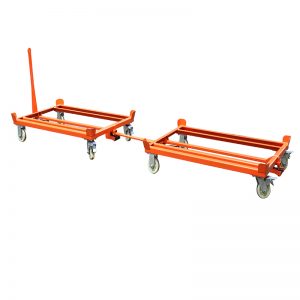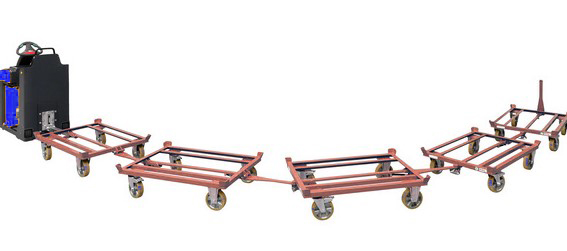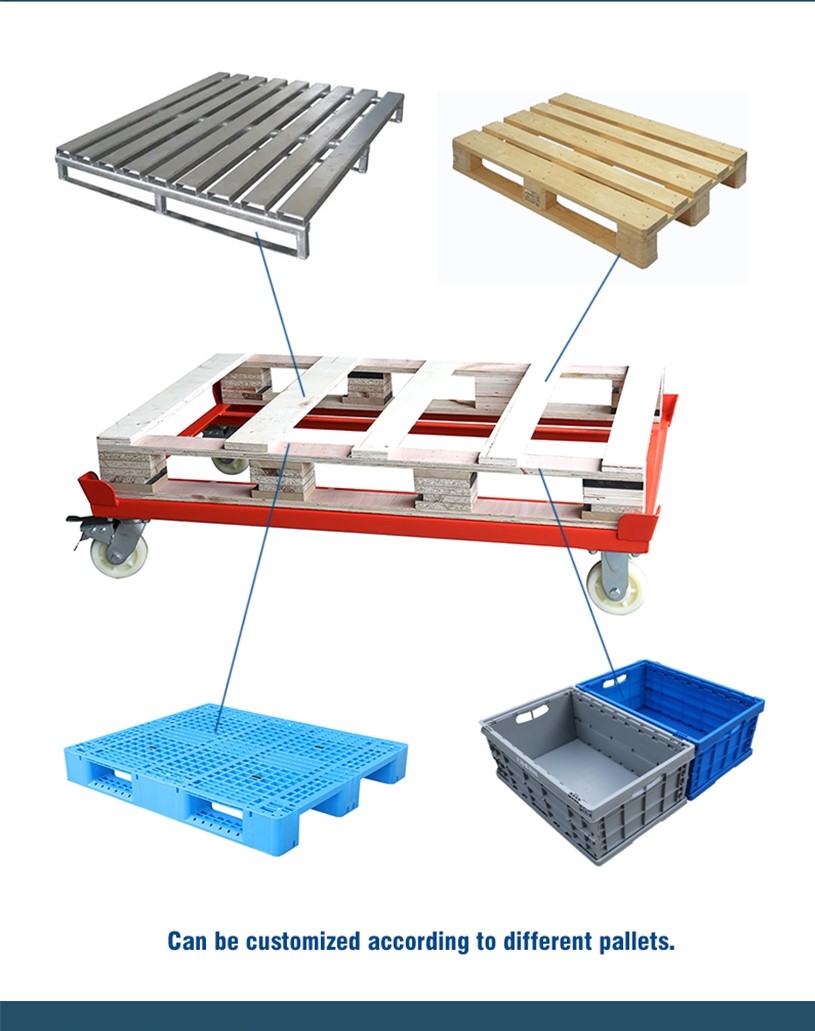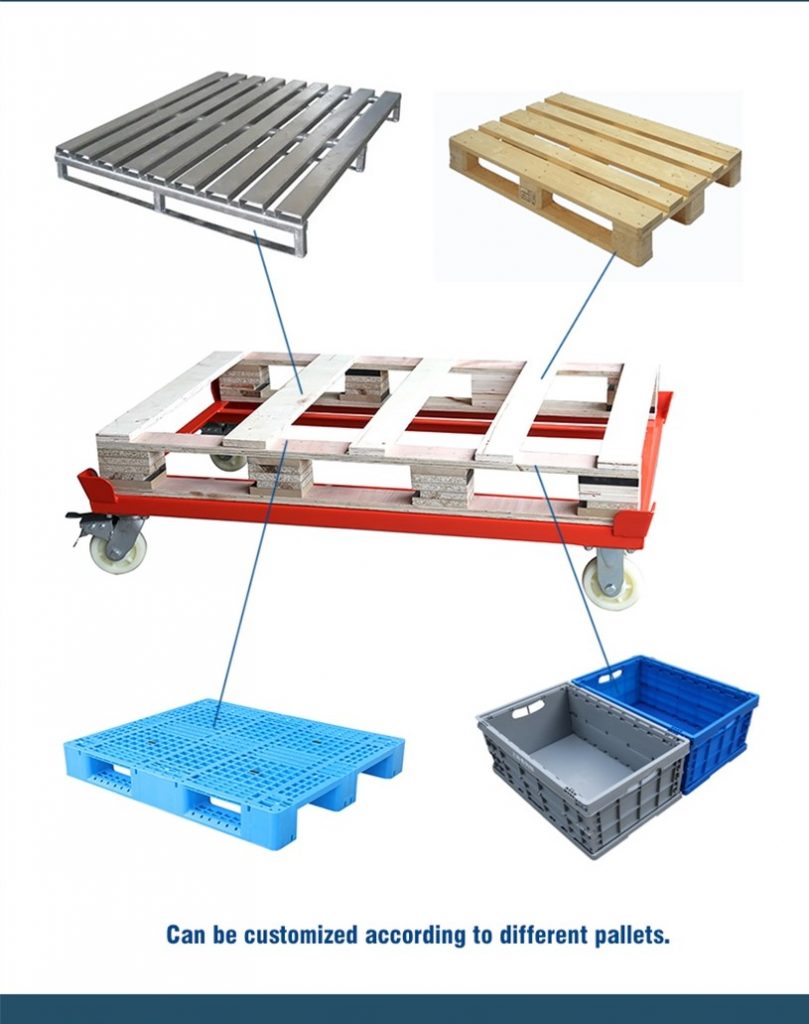 This Pallet dolly as tugger train can be customised with different add-on features depending on your product flow and the packages to be carried. You can add for example a drawbar, side or corner supports or even modify the position of the wheels.
Pallet dolly is designed to carry plastic crates and trays used in the automotive industry. it can easily be integrated into your automated system, tugger trains and used with or without a drawbar .
For optimised external transport and warehousing the Lean Modular Dolly, also known as Bodenroller on Germany, can be used together with the Lean adaptor pallet for the warehousing and distribution of components.
Robust welded angular steel frame structure with 4 corner braces.
Robust steel frame suitable for tugger train
Flat steel self-locking drawbar on fixed-wheel side
Robust coupling bolt with guide aperture and self-actuating safety latch
Gas compression spring moves drawbar automatically to vertical neutral position

May be operated using foot
Notes:This coupling system guarantees optimal directional stability. Pulling vehicle must have front steering and tugger train drawbar.