Self-tilting, fully-emptying boxes for tripping bulk goods automatically.
Self-tilting boxes need not to be lifted for emptying.The empty box moves auto-matically back into loading position.
Sturdy welded 3 mm sheetsteel design, powder coated in yellow.
Standard-fitted robust fork-lift sleeves, anti-roll safety device and tilt lock.
Link chain as anti-skidding and safety device.Traction cable to activate tilting mechanism, operated from fork-lift truck driver's seat.
2 swivel and 2 fixed-wheel castors made of polyamide,size 200x50mm, fitted un-derneath the fork-lift sleeves.Swivel castors with wheel locks, according to European Standard EN 1757-3(safety of platform trolleys).
Can be retrofitted.With filter to separate liquids from solids.Add'A' suffix to the order number of the relevant truck.
Replacement safety chain as anti-skidding and safety device with tow hook.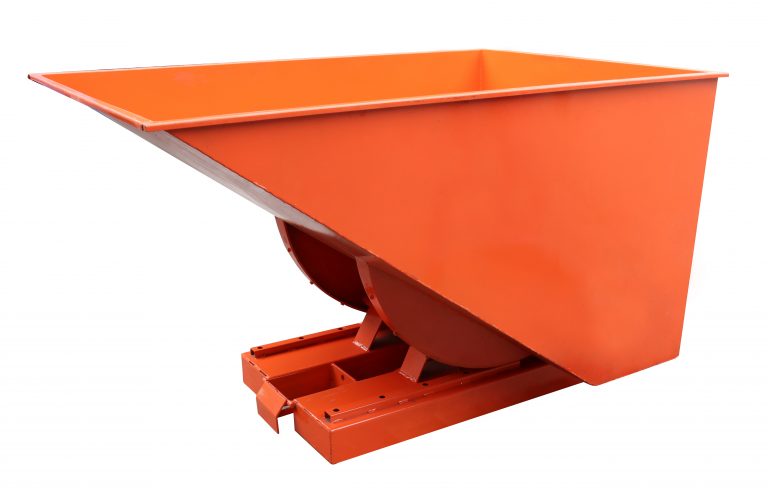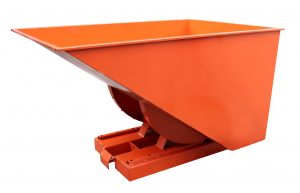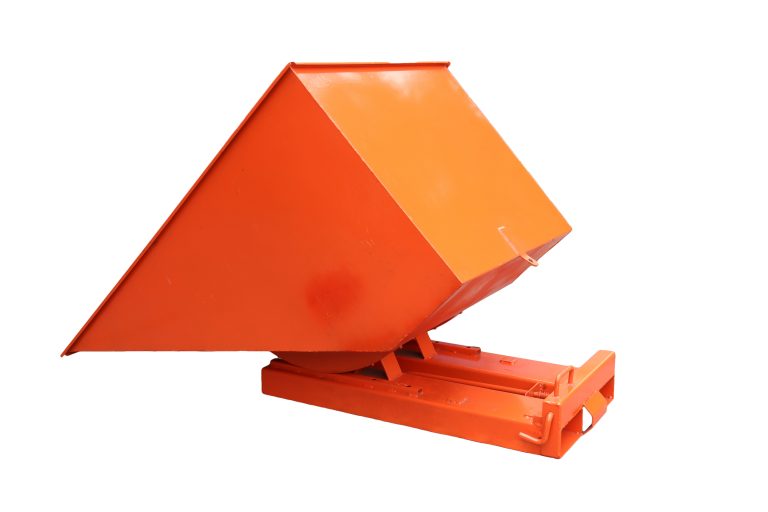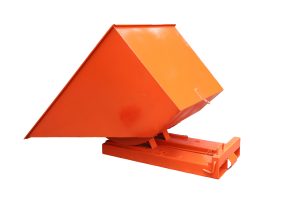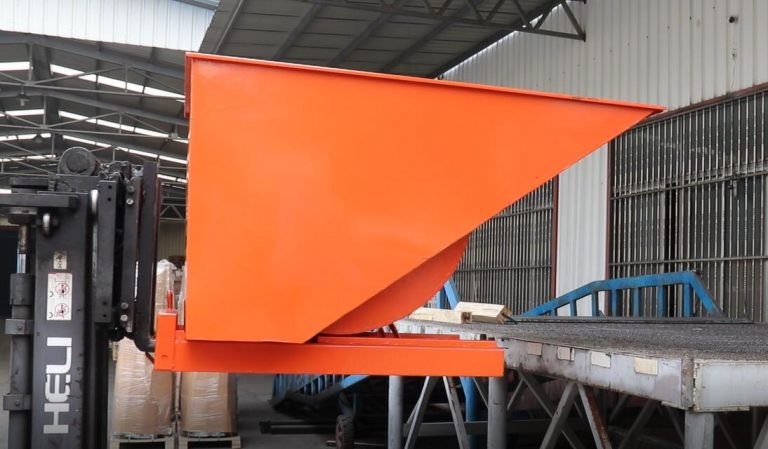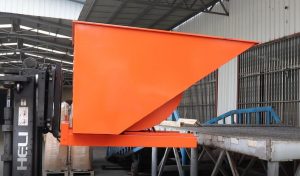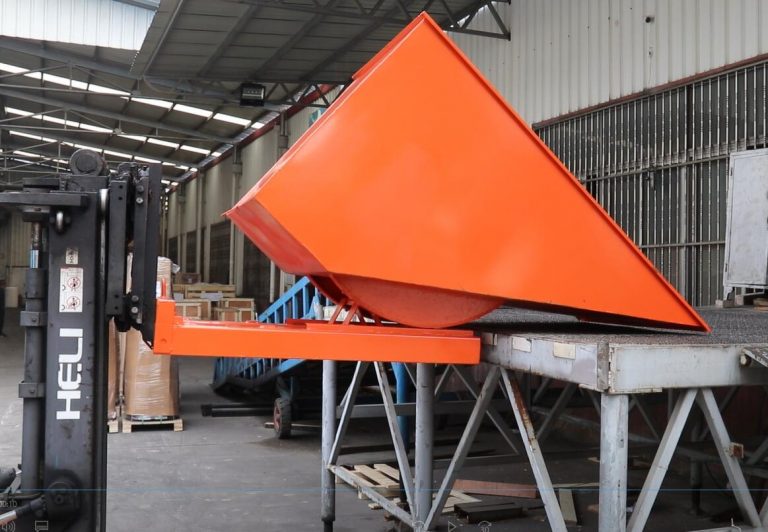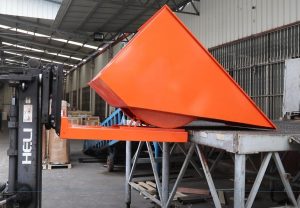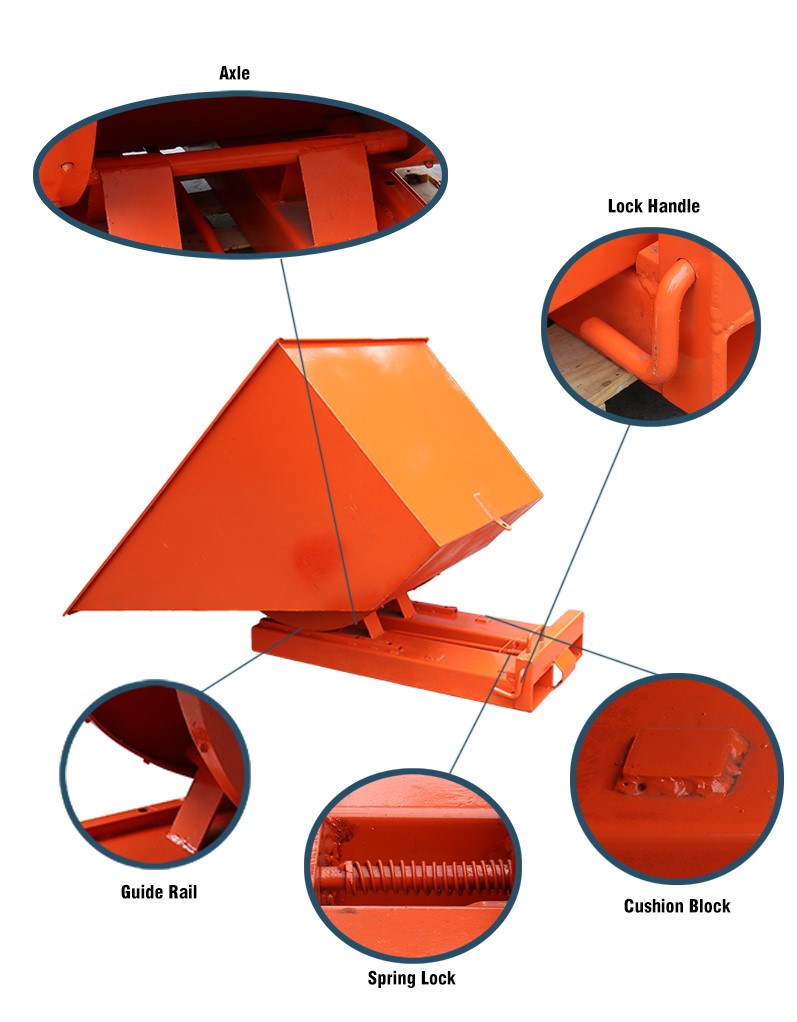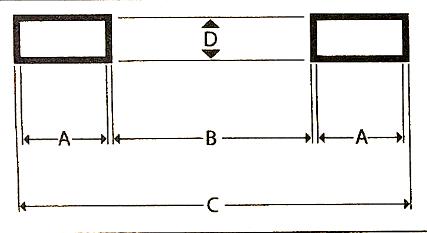 Model
SBA1000
SBA1500
SBA2000
SBA2500
Contents
350 L
600 L
900 L
1200 L
A
190mm(7.48")
190mm(7.48")
190mm(7.48")
190mm(7.48")
B
192mm(7.56")
582mm(22.9")
582mm(22.9")
582mm(22.9")
C
582mm(22.9")
982mm(38.7")
982mm(38.7")
982mm(38.7")
D
90mm(3.54")
90mm(3.54")
90mm(3.54")
90mm(3.54")
Capacity
1000kg(2200lbs)
1500kg(3300lbs)
2000kg(4400lbs)
2500kg(5500lbs)
Box Size LxWxH
1237x666x703mm
1237x1076x703mm
1237x1596x703mm
1699x1157x997mm
(48.7"x26.2"x27.7")
(48.7"x42.4"x27.7")
(48.7"x62.8"x27.7")
(66.9"x45.6"x39.3")
Outside Dimensions LxWxH
1294x731x937mm
1294x1141x837mm
1294x1661x837mm
1751x1222x1127mm
(50.9"x28.8"x36.9")
(50.9"x44.9"x32.95")
(50.9"x65.4"x32.95")
(68.9"x48.1"x44.4")
Dumping edge height
without rollers
748mm(29.4")
748mm(29.4")
748mm(29.4")
1043mm(41.1")
with rollers
985mm(38.8")
985mm(38.8")
993mm(39.1")
1280mm(50.4")
Net Weight
126kg(277.8lbs)
155kg(341.7lbs)
184kg(405.7lbs)
230kg(507.1lbs)
---