▲i-Lift workshop floor crane has space saver fold compact design.Release valve on hydraulic ram allows controlled lowering which provides more safety. With 4 positions for Cap. 4400 lbs model. With 3 positions for Cap. 2200 lbs model. 2 Swivel castors for smoothy moving and more safe , this makes it easy to reach place needed. This mobile workshop crane provides the heavy lifting power you require while also being foldable, allowing you to pack it up and put it out of the way when not in use.
It comes complete with hydraulic ram, chain and hook.Foldable for easy transport and space-saving storage. Heavy duty and long ram. A must-have for lifting engines, machinery and all heavy components. This hydraulic workshop crane Ideal for moving, repair, maintenance and assembly. Folding design is easy to transmission and store.
This foldable floor crane is economical but widely used. Foldable design make it more compact and easy to save space.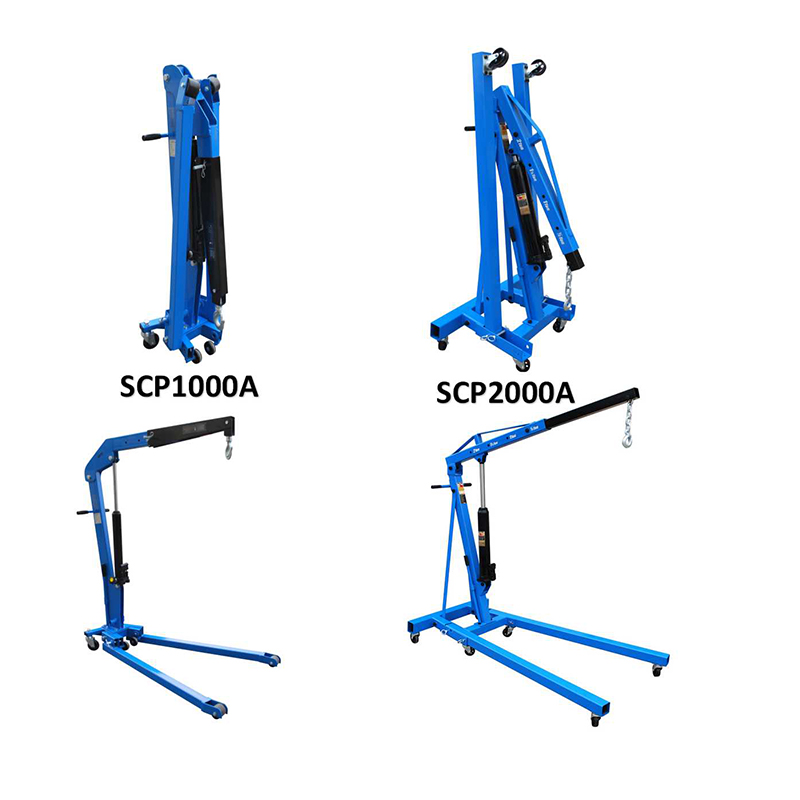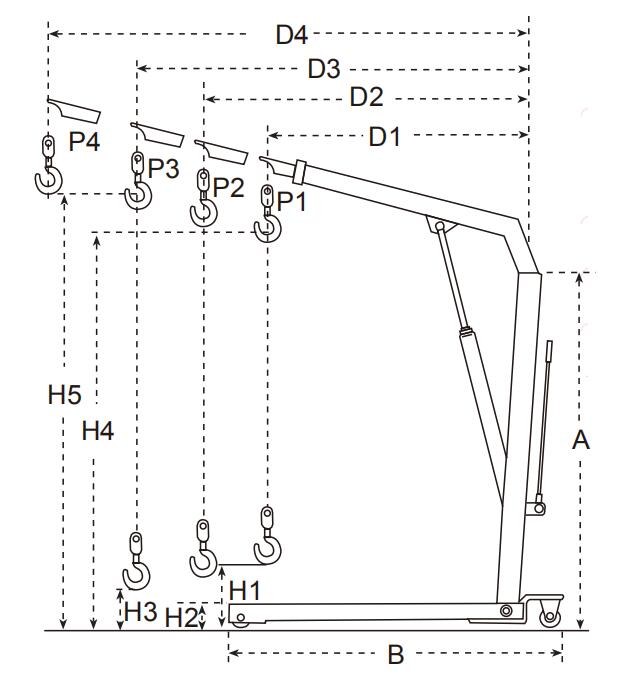 i-Lift No.
2312701
2312702
Model
SCP1000A
SCP2000A
Capacity at position
lbs(kg)
P1
2200(1000)
4400(2000)
P2
1650(750)
3300(1500)
P3
1100(500)
2200(1000)
P4
---
1100(500)
Dimensions
inch(mm)
A
57.9(1470)
45.3(1390)
B
61(1550)
70.7(1795)
D1
40.7(1035)
38.2(970)
D2
45.7(1160)
45.3(1150)
D3
50.6(1285)
52.4(1330)
D4
---
59.4(1510)
H1
10.2(260)
11.4(290)
H2
3.1(80)
7.5(190)
H3
0.4(10)
0
H4
83(2110)
75.6(1920)
H5
89.4(2270)
92.5(2350)
Overall width
inch(mm)
37(940)
Net Weight
lbs(kg)
156.2(71)
209(95)
---
1.Foldable design to save space.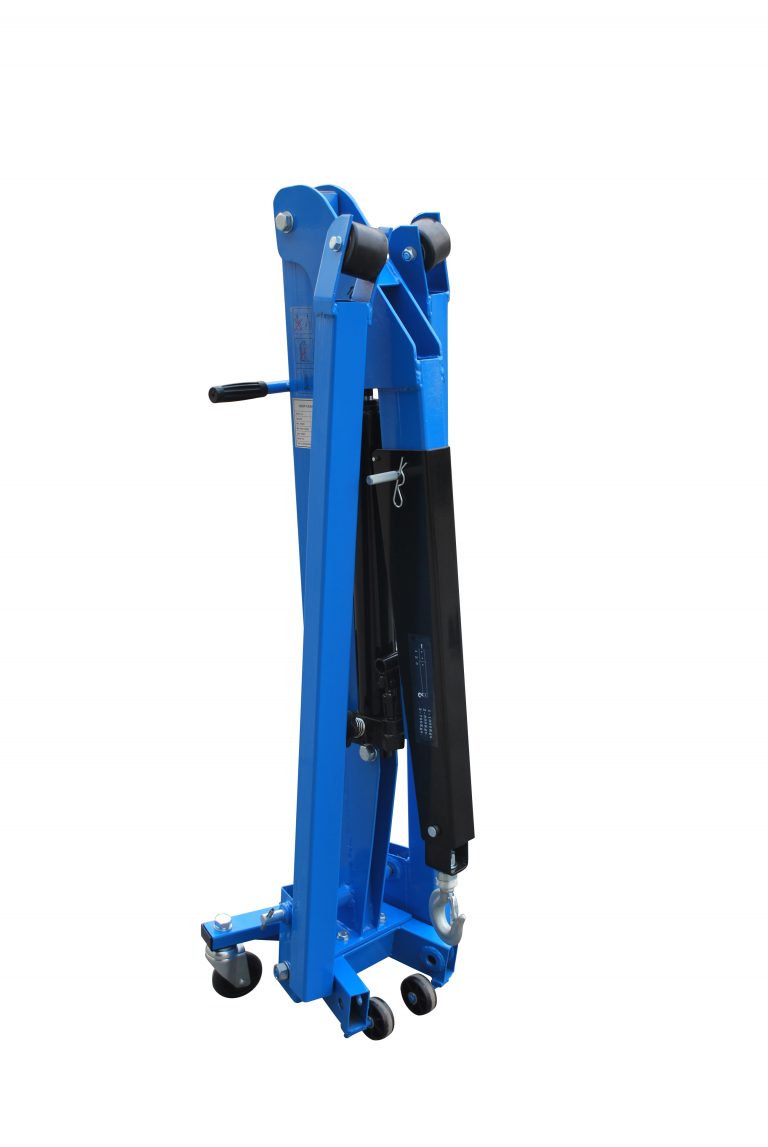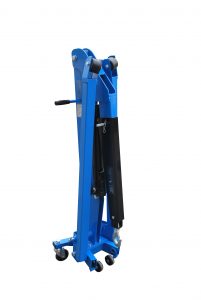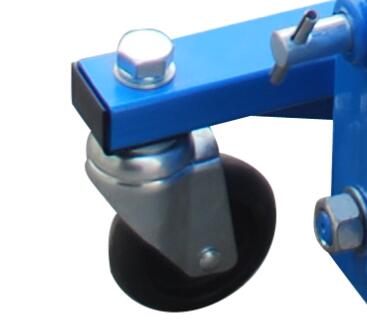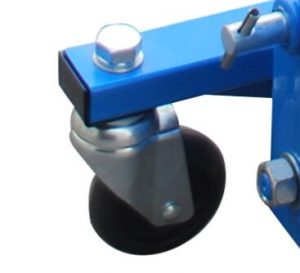 2.Swivel castors for smooth moving and easy to reach place needed
3. Lowering can be controlled provides more safety.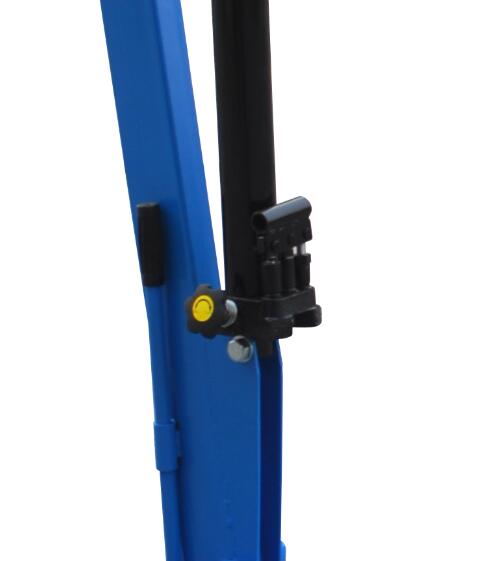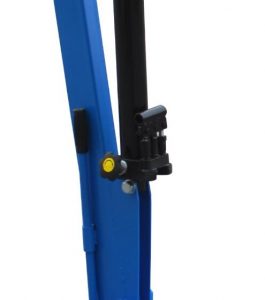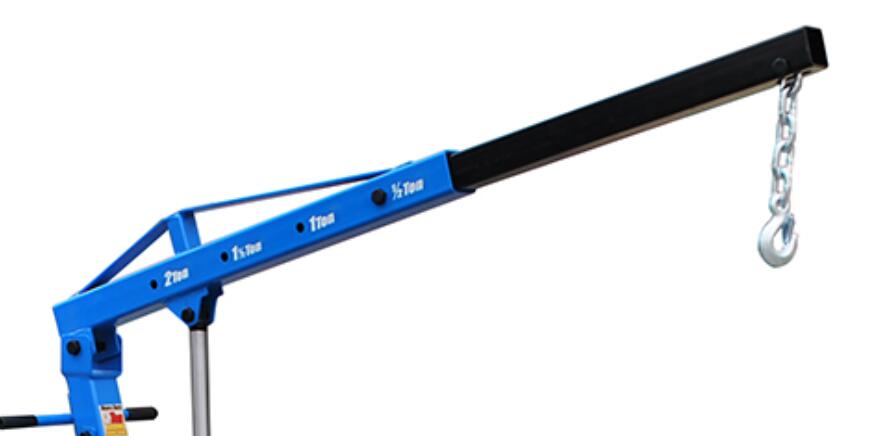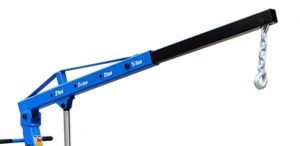 4. Adjustable crane arm for different capacity and distance