HPG series galvanized pallet truck has the latest galvanizing technology offers longest span life and prevent corrosion. It is corrosion resistant like stainless steel pallet truck but more cheaper than stainless pallet truck.
For use in corrosive environment, cold room or clean room applications. Chrome plated piston and valve. Galvanized structure including fork frame, wheel frame, push rod, handle.Galvanized pump with leak resistant and airless design.
75mm (3") lowered fork height available.
The galvanized pallet truck has model HPG20S, HPG20L, HPG25S, HPG25L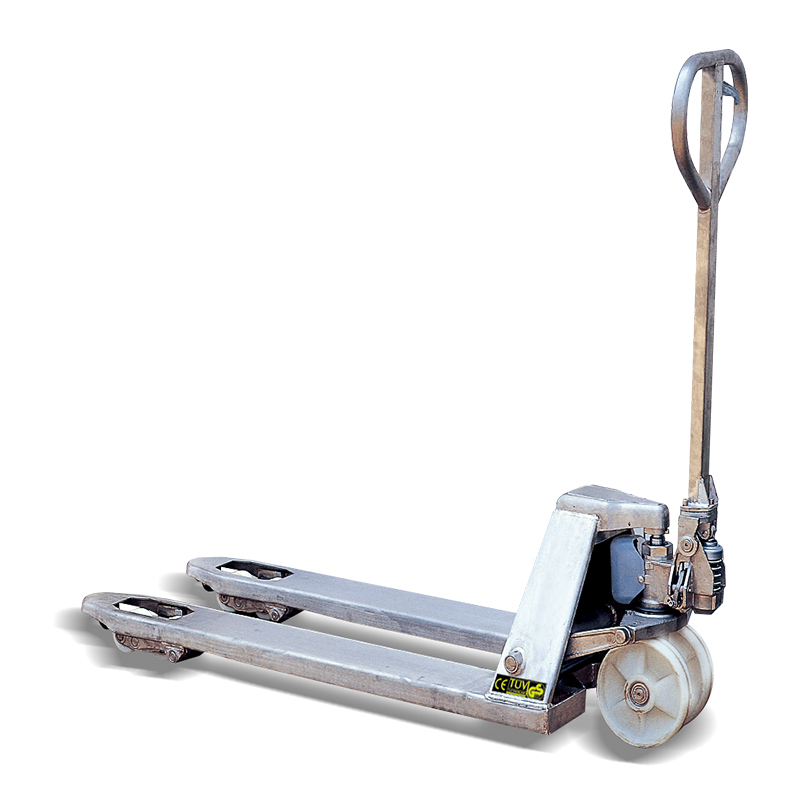 i-Lift No.
1110801
1110802
1110803
1110804
Model
HPG20S
HPG20L
HPG25S
HPG25L
Capacity
 kg(lb.)
2000(4400)
2500(5500)
Max.fork height
 mm(in.)
205(8.1)
Min.fork height
 mm(in.)
85(3.3)
Fork Length
 mm(in.)
1150(45.3)
1220(48)
1150(45.3)
1220(48)
Width overall forks
 mm(in.)
540(21.3)
680(27)
540(21.3)
680(27)
Individual fork width
 mm(in.)
160(6.3)
Net Weight
 kg(lb.)
75(165)
78(171.6)
78(171.6)
81(178.2)
---
As a pallet truck manufacture(pallet jack manufacture), i-Lift also have electric pallet truck, high lift scissor pallet truck, rough terrian pallet truck, hand pallet truck(hydraulic pallet truck), low profile pallet truck, stainless pallet truck, galvanized pallet truck, roll pallet truck, pallet truck with scale, skid lifter pallet truck, weighing pallet truck and so on.
SAFETY RULES of Manual Pallet Truck(manual pallet jack)
For safe operation of the Hand Pallet Truck, please read all warning signs and instructions here and on the pallet truck prior to use.
To avoid hazardous situations, you should obey the following rules:
Do not use as a personnel lifting platform or step.
Do not overload the machine.
The machine can be only used on a firm, level surface.
Do not use the machine on the condition of drop-offs, holes, bumps, debris, unstable surfaces or other possible hazardous conditions.
The machine can be only used in the light environment of at least 50LUX.
Do not lift if the load is not properly centered on the forks. Check the "Diagram of correct centered load" on the manual for correct load center position.
Check the work area for overhead obstruction or other possible hazards.
4)  Bodily Injury Hazards
Recommended operators to wear safety shoes and gloves.
Do not put the hands and feet under the forks when using the machine.
5)  Improper Use Hazard
Never leave a machine unattended with a load.
Do not use a damaged or malfunctioning machine.
Conduct a thorough pre-operation inspection prior to each use.
Be sure that all decals are in place and legible.
Use proper lifting techniques to load the machine.