This DE series (DE450A and DE450B) drum truck with strong practicability.
DE450-A has two wheels, self-standing by its kickstand, Eagle-grip structure with powerful mechanical interaction; One person operate easily.
DE450-B 4-Wheel barrel handing trucks is our hot selling drum truck The innovative design provides extra safety, ease of use, and versatility. Ergonomic Drum Trucks to move and dispense a heavy drum with ease. With this ergonomic drum truck you can load and unload a heavy drum with ease and move a drum quickly and easily in narrow aisles. The four wheels fully support the drum's weight, so can be operated easily by one person. Self-standing with kickstand. Safely carry and grip the steel or fiebr drum on or off pallets
Move and stack drums quikly and simply with this fork mounted drum handler
10" rubber wheel let you operate with less effort. safely carry and grip the drum. Eagle mouth design prevents oil drums from slipping during handling,which is the best tooling for lifting and carrying plastic oil cylinder.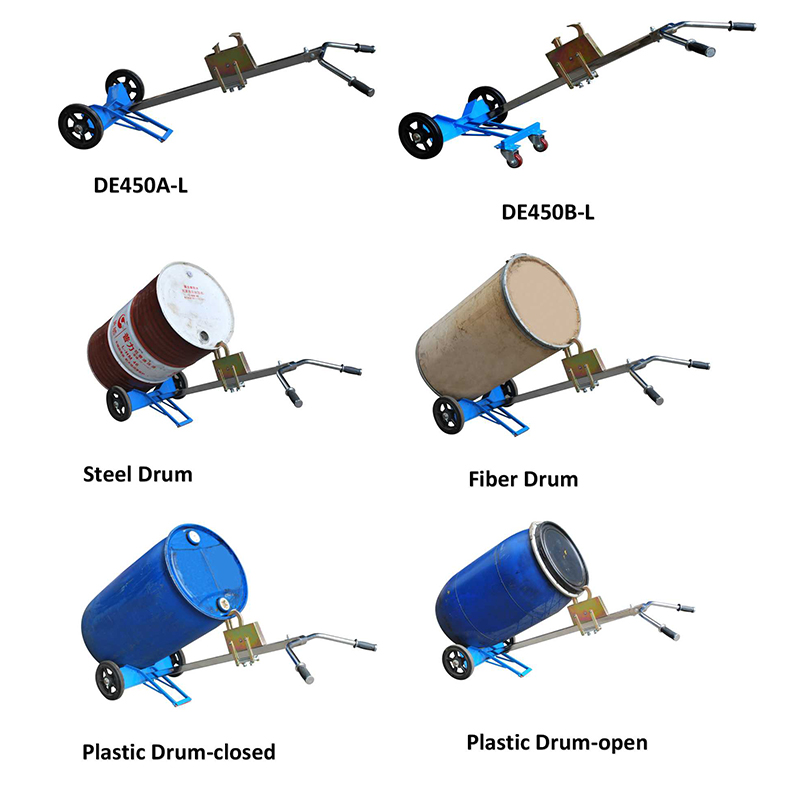 i-Lift No.
1711102
1711103
Model
DE450A-L
DE450B-L
Capacity                            kg(Ib.)
450(990)
Drum Size                          gallon
30 or 55
Overall Size                     mm(in.)
1520×620×1500(60.5×24.5×60)
Net Weight                        kg(Ib.)
21(46.2)
23(50.6)
Wheel(Rubber)Caster       mm(in.)
Ф250×50/-(10×2/-)
Ф250×50/Ф75×32(10×2/3×1.3)
Types of drum truck:
As a professional drum truck manufacturer for many years, we have developed various kinds of drum trucks, such as hydraulic drum truck,Drum palletizer,Drum Cradles,Drum Palletizer,Drum Grab,Drum positioner,Vertical Drum lifters,Drum Lifter etc…
After-sale service:
Each equipment comes with specs instruction
1 Year Limited Warranty
We have been in manufacturing drum truck for many years. And we have a professional and perfect after-sales service team.
Drum truck manufacturer:
As a professional manufacturer of various types of material handling & lifting products, drum truck is one of our main products. In addition to this, we can also manufacture various kinds of pallet trucks, stackers, lift tables, forklifts, crane, drum handling, forlift attachment, skates, jack, puller, hoist, lifting clamp and so on. If you would like to purchase one type of material handling equipments, you can send us email from this page for quotation now. And if you are interested in our other products, welcome to contact us via e-mail or other ways that listed in the page. We will reply you in 24 hours.