This series aluminum platform truck are ideally suited for hot, wet applications. Its lightweight, corrosion-resistant, aluminum platform trucks have a clean, handsome apperance and are built for heavy-duty use.
This can be used for any area like office, stockroom, warehouse, dock area,laboratory and also for home use.
Unitized box frame is made of high strength all welded aluminum channel with heavy duty deck. Corner sockets at both ends allow handles to be used on either or both ends of the truck. Two swivel and two rigid castors for smooth mobility.
Additional handles for your option.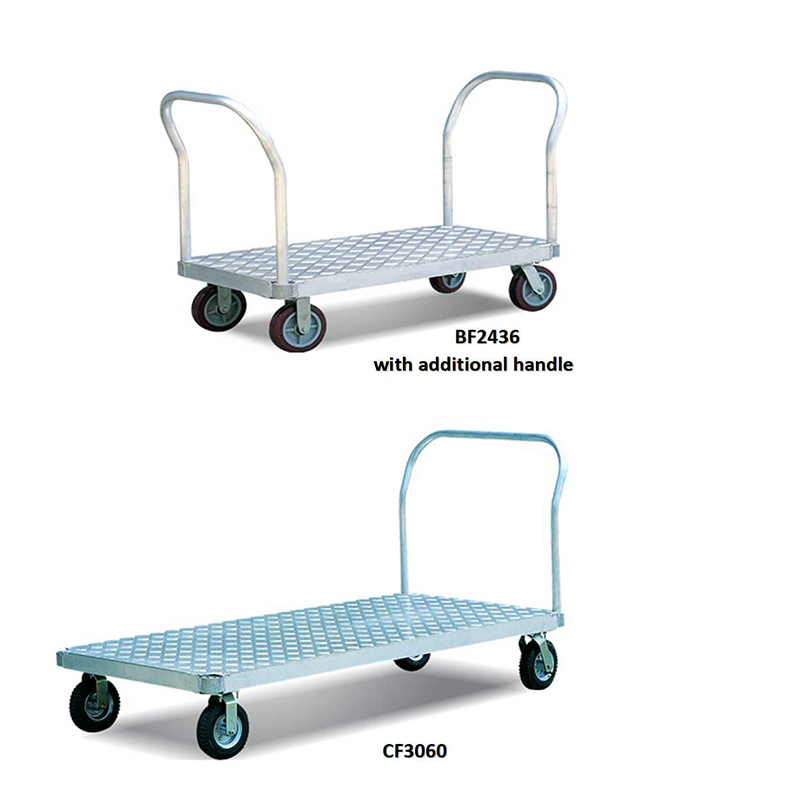 i-Lift No.
1012701
1012702
1012703
1012704
1012705
1012706
1012707
Model
AF2436
AF2448
AF3048
AF3060
AF3672
BF2436
BF2448
Capacity
 kg(lb.)
900(2000)
1350(3000)
Platform Size
 mm
610*915
610*1220
760*1220
760*1525
915*1830
610*915
610*1220
(in.)
(24*36)
(24*48)
(30*48)
(30*60)
(36*72)
(24*36)
(24*48)
Platform height
 mm(in.)
238(9.4)
258(10.2)
Caster wheel
 mm(in.)
995(39.2)
1015(40)
Caster type
Poly
Net Weight
 kg(lb.)
20(44)
25.5(56.1)
28(61.6)
33(72.6)
38.5(84.7)
21(46.2)
26.5(58.3)
---
i-Lift No.
1012708
1012709
1012710
1012711
1012712
1012713
1012714
1012715
Model
BF3048
BF3060
BF3672
CF2436
CF2448
CF3048
CF3060
CF3672
Capacity
 kg(lb.)
1350(3000)
1100(2400)
550(1200)
Platform Size
 mm
760*1220
760*1525
915*1830
610*915
610*1220
760*1220
760*1525
915*1830
(in.)
(30*48)
(30*60)
(36*72)
(24*36)
(24*48)
(30*48)
(30*60)
(36*72)
Platform height
 mm(in.)
258(10.2)
338(13.3)
Caster wheel
 mm(in.)
150*50(6*2)
200*50(8*2)
Caster type
Poly
Pneumatic
Net Weight
 kg(lb.)
29(63.8)
34(74.8)
39.5(86.9)
24(52.8)
29.5(64.9)
32(70.4)
37(81.4)
42.5(93.5)
---