Storing and transporting goods within working environments is a key part of day-to-day tasks so it is vital to carry out processes safely and efficiently. Our heavy duty steel platform trolley helps to reduce the risk of damage to goods, make light work of manoeuvring heavy loads and preventing injuries to employees.
Its heavy duty, high quality power coated deck is an attractive blue design is capable of working with loads up to 900kg so you can be assured that our heavy duty trolley will fulfil the majority of office, warehouse, storeroom and workshop requirements.
This all welded heavy duty 14 gauge steel decks, reinforced with internal. Iongitudinal stiffening members for extra strength. Removable pipe handle. bolt-on casters are double ball race, two swivel and two rigid casters. Durable baked gray enamel finish;providing a comfortable handle height for efficient materials handling.
Fecture:
Max. 900kg Load Capacity Heavy Duty Trolley;
 2 swivel castors and 2 fixed castors;
Smooth & Effortless Movement on Roller Bearings;
Ideal for Office, Storeroom, Warehouse & Industrial Use
YF2436,YF2448,YF3048,YF3060,YF3672, are 450kg(1000lbs) capacity with different platform size.
XF2436,XF2448,XF3048, XF3060,XF3672, are 900kg(2000lbs) capacity with different platform size.
ZF2436,ZF2448,ZF3048,ZF3060,ZF3672, are 540kg(1200lbs) capacity with different platform size.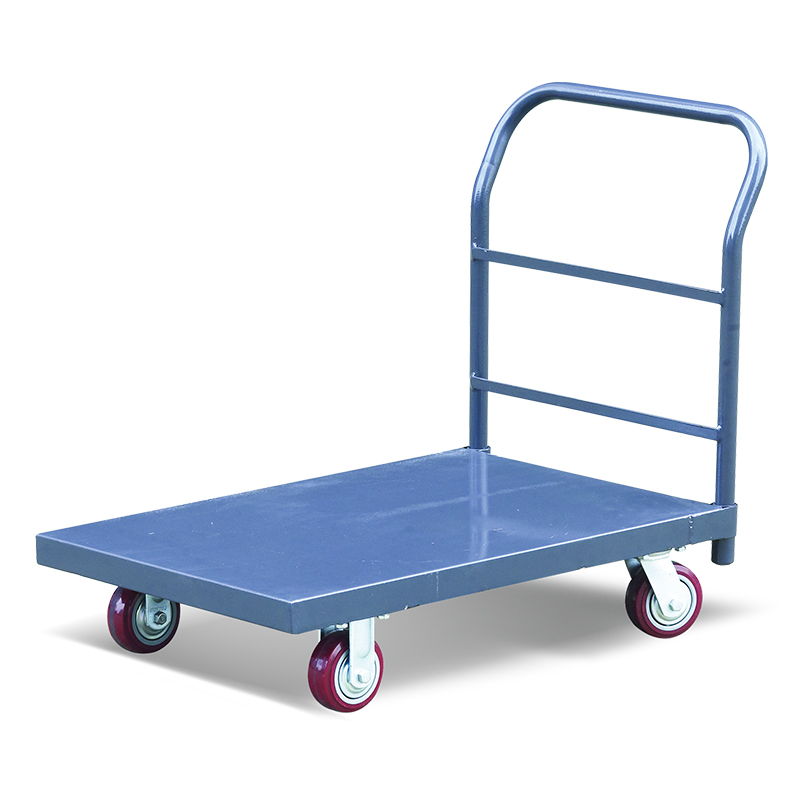 i-lift No.
1011401
1011402
1011403
1011404
1011405
1011406
1011407
Model
YF2436
YF2448
YF3048
YF3060
YF3672
XF2436
XF2448
Capacity
 kg(lb.)
450(1000)
900(2000)
Platform size
 mm(in.)
610*915(24*36)
610*1220(24*48)
760*1220(30*48)
760*1525(30*60)
915*1830(36*72)
610*915(24*36)
610*1220(24*48)
Platform height
 mm(in.)
215(8.5)
240(9.5)
Handle height
 mm(in.)
840(33)
865(34)
Caster wheel
 mm(in.)
125*50(5*2)
150*50(6*2)
Caster type
Poly
Net Weight
 kg(lb.)
30(66)
35(77)
40(88)
45(99)
56(123)
31.5(70)
36.5(80)
---
i-lift No.
1011408
1011409
1011410
1011411
1011412
1011413
1011414
1011415
Model
XF3048
XF3060
XF3672
ZF2436
ZF2448
ZF3048
ZF3060
ZF3672
Capacity
 kg(lb.)
900(2000)
540(1200)
Platform size
 mm(in.)
760*1220(30*48)
760*1525(30*60)
915*1830(36*72)
610*915(24*36)
610*1220(24*48)
760*1220(30*48)
760*1525(30*60)
915*1830(36*72)
Platform height
 mm(in.)
240(9.5)
280(11)
Handle height
 mm(in.)
865(34)
905(37)
Caster wheel
 mm(in.)
150*50(6*2)
200*50(8*2)
Caster type
Poly
Rubber
Net Weight
 kg(lb.)
40.5(90)
46.5(103)
57.5(127)
39(86)
44(97)
48(106)
54(120)
65(143)