Aluminum lift table is a light duty mobile lift table which is widely used in the fields of food processing, medicine, electronics, etc. High-strength aluminum construction is lightweight and corrosion resistant. This manual lift table is raised via a manual hydraulic foot pump that includes a soft-lower valve to smoothly lower the load. Aluminum lift cart features an internal hydraulic velocity fuse in each cylinder for safe operation. It is an ergonomic solution designed to reduce repetitive worker bending and lifting motion.
Two swivel castors with brake can  help to stop the manual hydraulic platform truck at a certain position during loading and unloading, preventing the danger caused by the platform truck sliding away. Front wheel with anti-collision frame can prevent contact objects from being injured. This manual hydraulic lift table is manual moving and manual lifting.
BSA10 is Aluminum lift table and YSS series are manual scissor stainless steel lift table by #304, #316, and YSS series has model YSS15-304, YSS15-316, YSS25-304, YSS25-316, YSS50.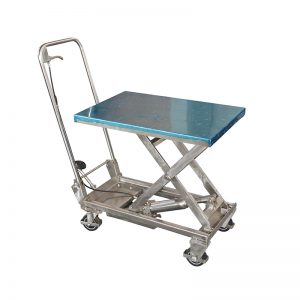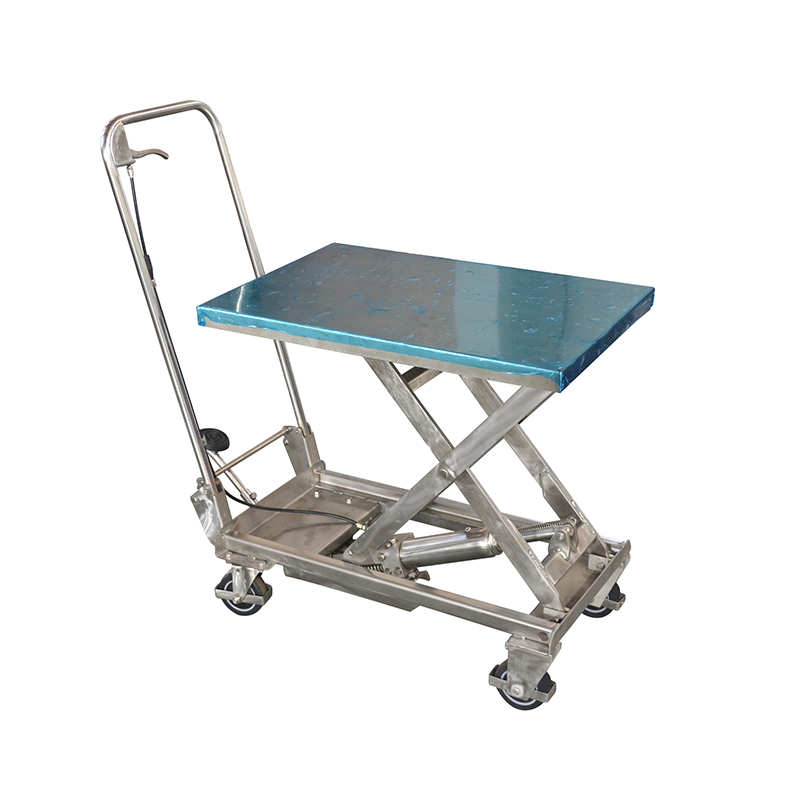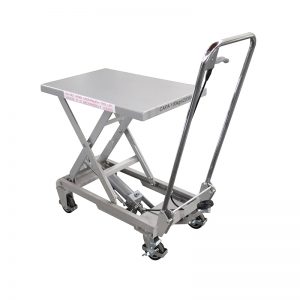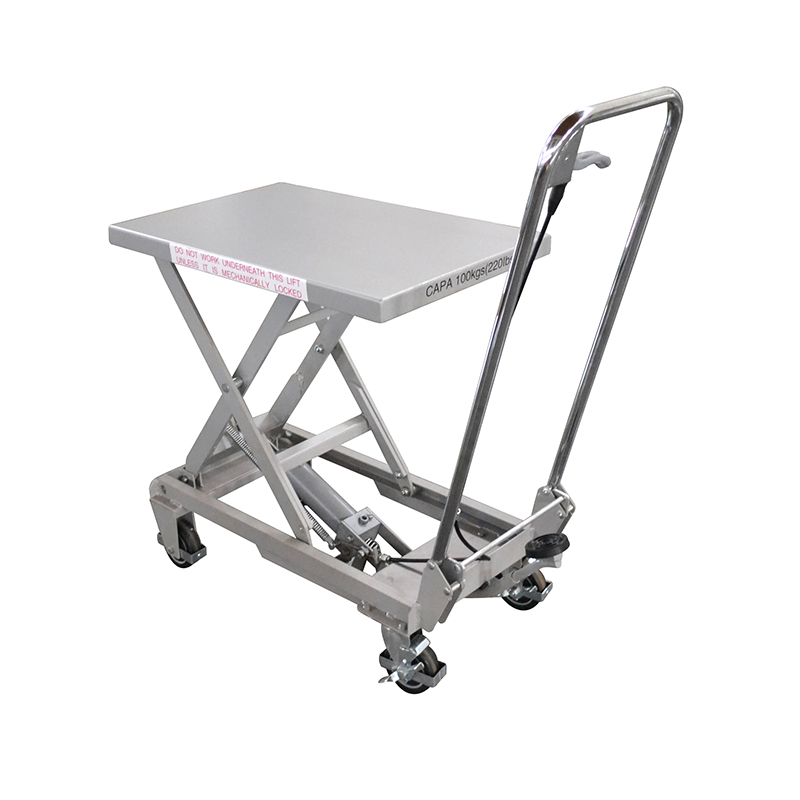 i-lift No.
1313201
1313202
1313203
1313204
1313205
1313206
Model
BSA10
YSS15-304
YSS15-316
YSS25-304
YSS25-316
YSS50
Capacity
 kg(lb.)
100(200)
150(330)
250(550)
500(1100)
Min. Height
 mm(in.)
265(10.4)
265(10.4)
330(13)
330(13)
Max.height
 mm(in.)
755(29.7)
755(29.7)
910(35.8)
1000(40)
Wheel Size
 mm(in.)
100(4)
100(4)
100(4)
125(5)
150(6)
Table size
 mm(in.)
700*450(27.6*17.7)
700*450(27.6*17.7)
830*500(32.7*20)
1010*500(40*20)
Handle height
 mm(in.)
1010(40)
1000(40)
1100(44)
1100(44)
Overall Size
 mm(in.)
450*910(17.7*35.8)
450*950(17.7*36.6)
500*1010(20*40)
500*1000(20*40)
Package size
 mm(in.)
850*490*300(33.5*19.3*11.8)
910*500*325(35.8*20*12.8)
940*550*400(37*21.7*15.7)
---
Material
Aluminium
SS-304
SS-316
SS-304
SS-316
SS-304/SS-316
Foot pedal to max.height
40
20
28
---
Net Weight
 kg(lb.)
23(50.6)
40(88)
78(171.6)
92(202.4)
The Features of Aluminum Lift Table:
l Robust structure yet light weight.
l Made of aluminum.
l Two brakes increase safety.
l Meet EN1750
OPERATING PROCEDURES:
It is necessary to repeatedly step on the pedal to make the cargo rise to the required height with the work surface;
Slowly lift the handle, open the check valve to make the work surface slowly descend;
Please turn on the brake before moving the lift table.
Attention and maintenance of manual aluminum lift table/ manual stainless lift table :
---
The unit is specially designed and operated by the user;
It is strictly forbidden to use overload or unbalanced load;
During the operation, it is strictly forbidden to stand on the platform;
It is strictly forbidden to place your hands and feet under the lowering table;
When the goods are being loaded, the brakes should be braked to prevent the hydraulic lift table from moving;
The goods should be placed in the center of the countertop and placed in a stable position to prevent slippage;
When the cargo is lifted, the platform truck cannot be moved;
When moving, be sure to hold the handle to move the lift table;
Use the manual lift table on a flat, hard ground, and do not use it on slopes or bumps.
After the operation is completed, the goods should be unloaded to avoid deformation of the platform truck caused by heavy load for a long time;
When maintaining, be sure to support the scissor arm with the support rod to avoid the lowering of the table during the work of the operator.