This EF (Adjustable fork) and EJ (Fixed fork) series work platform light stacker are designed for alise working area. It is the perfect solution for lifting and positioning cumbersome office files, computer equipment and mailroom supplies, as it is easily maneuvered in confined spaces. Office Lift features an easy to use foot operated hydraulic pump and its unique design for added flexibility. Electric light stacker with durable steel construction, with chrome-plated rails and handles, ensures years of service. This electric light stacker rolls easily with floor-protective 5" polyurethane swivel casters with brakes and 3" phenolic load wheels and it is easily for one person operation.
Fork and platform optional made it not only a pallet lifting machine but also a work positioner (work platform light stacker), As an electric electric fork stacker, this EF and EJ series are not only a fork type stacker, they also can be a platform stacker with a plate, normally used in warehouse, factory, workshop or home using.
EF series electric light stacker including EF2120R, EF4120R, EF415R and EJ series including EJ2120R, EJ4120R and EJ4150R. The differnence between EF and EJ series fork type light stackers is EFseries with fixed fork and EJ series are with adjustable fork.
As a light stacker manufacture, this series electric light stacker also have manual models, pls click this if you need manual light platform stacker.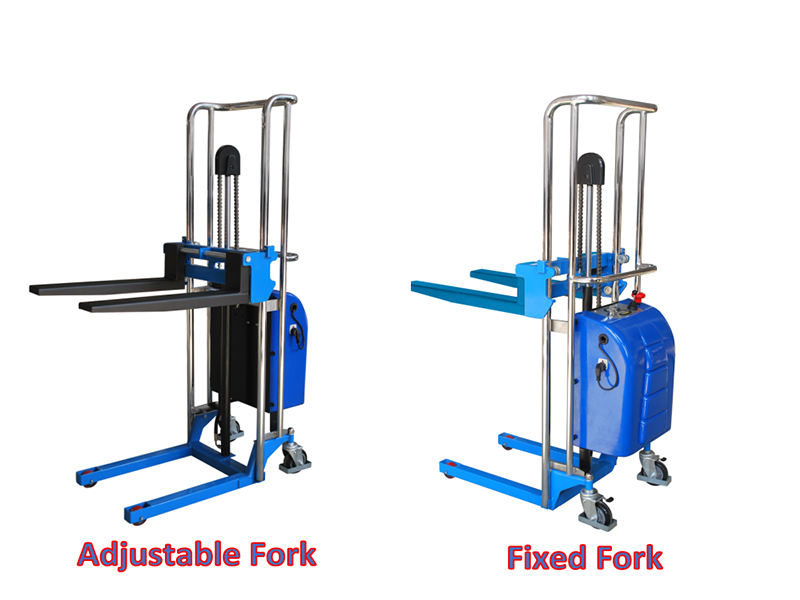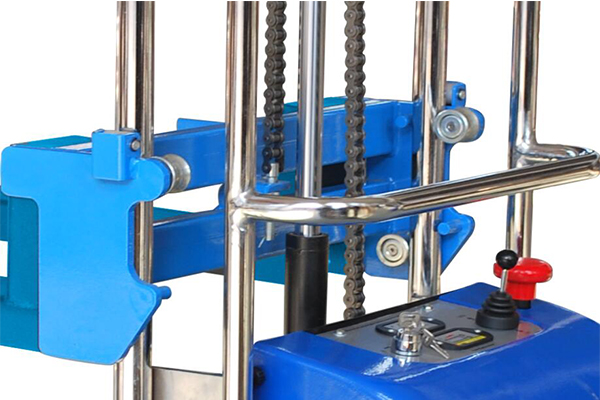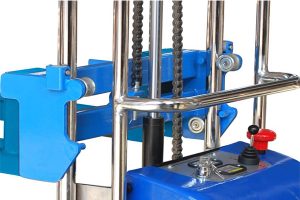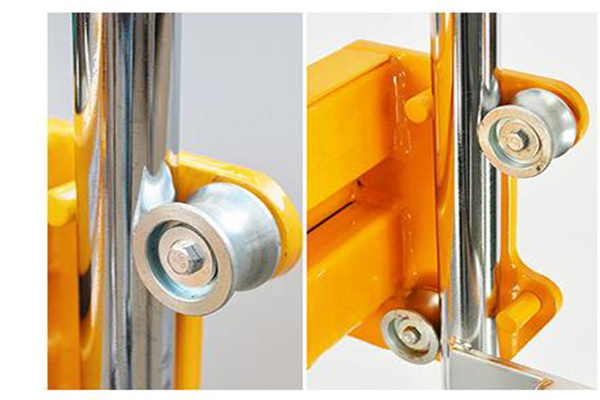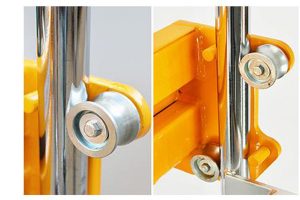 Platform is optional to be a work platform stacker.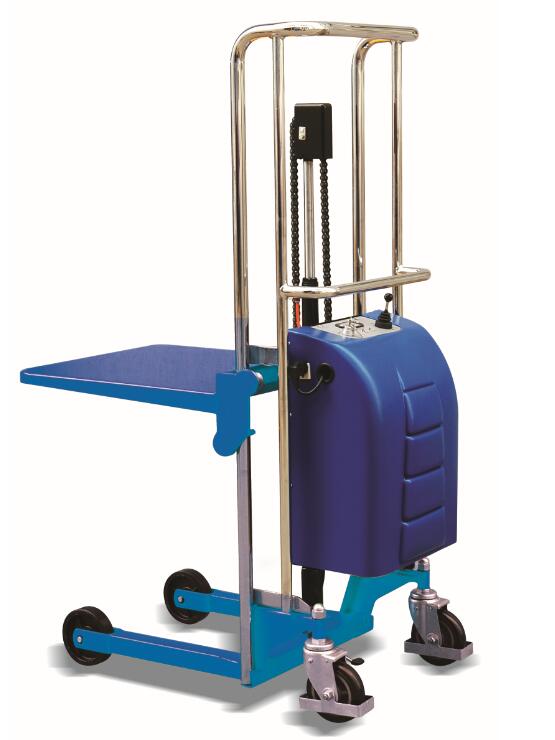 i-lift No./Model(Fixed Fork)
1510511/EF2120R
1510512/EF4120R
1510513/EF4150R
i-lift No./Model(Adjustable Fork)
1510514/EJ2120R
1510515/EJ4120R
1510516/EJ4150R
Capacity
 kg(lb.)
200(440)
400(880)
Max.fork height
 mm(in.)
1200(47.2)
1500(60)
Min.fork height
 mm(in.)
85±5(3.3±0.2)
Fork Length
 mm(in.)
650(25.6)
Fixed fork width(EF series)
 mm(in.)
550(21.7)
Adjustable fork width(EJ series)
 mm(in.)
215-500(8.5-19.7)
Single fork width
 mm(in.)
100(4)
Dia of front wheel
 mm(in.)
75(3)
Dia of steering wheel
 mm(in.)
125(5)
Chassis height
 mm(in.)
26.5(1)
Power Pack Motor
(KW)
0.8
Battery
Ah/V
70/12
Overall size(L*W*H)
 mm(in.)
1100*570*1412(44*22.4*55.6)
1100*570*1722(44*22.4*67.8)
Net weight(EF series)
 kg(lb.)
116(255.5)
122(268.4)
Net weight(EJ series)
 kg(lb.)
121(266.2)
127(279.4)
Option Platform
LP10(650*530)
LP20(660*580)
---
The work platform stacker is a ergonomically friendly lifter used for a variety of applications. Whether it's placing small pallets or containers from shelving, placing loads on work benches, or used as a work positioner; it's light tubular construction makes it easy to maneuver.
The work platform stacker's overall compact design allows it to get into the tightest of spaces. The battery operated lift includes a 12 volt battery and automatic on-board charger.