i-Lift RP series rough terrian pallet truck is designed for moving pallets on uneven terrain especially for the building trade. It has pneumatic tires mounted on hubs with sealed bearings and forks moving on rollers with self-lubricating bushings which facilitates travel and lifting with minimal effort. The width of the forks is adjustable to adapt to all the pallets. The lifting system is hydraulic with integrated hand pump. Handling is full and does not require lubrication.
Ergonomic design of the terrian pallet truck frame to reduce the operation effort. Meanwhile the truck is robust enough for the purpose to work outside such as builders yard, garden centers where there's only an occasional need for moving pallets by forklifts or where no ordinary forklift or even pallet truck can go.The fork is adjustable for special dimension pallet.
The rough terrian pallet truck has model RP1000A, RP1250A, RP1500B.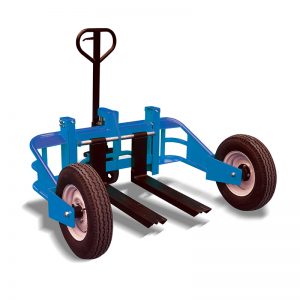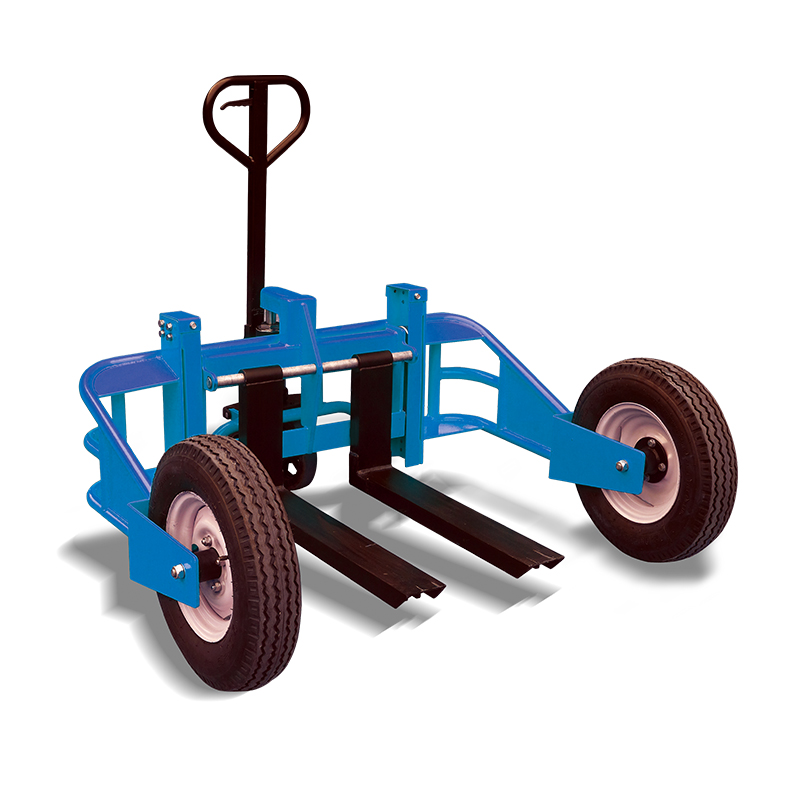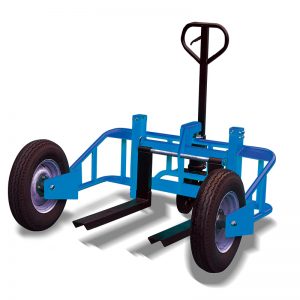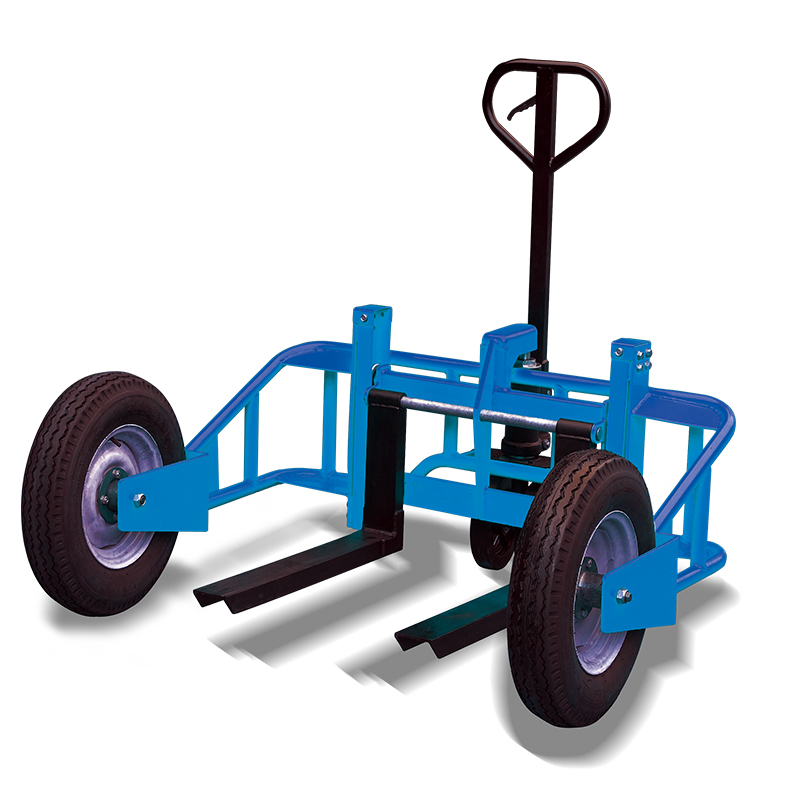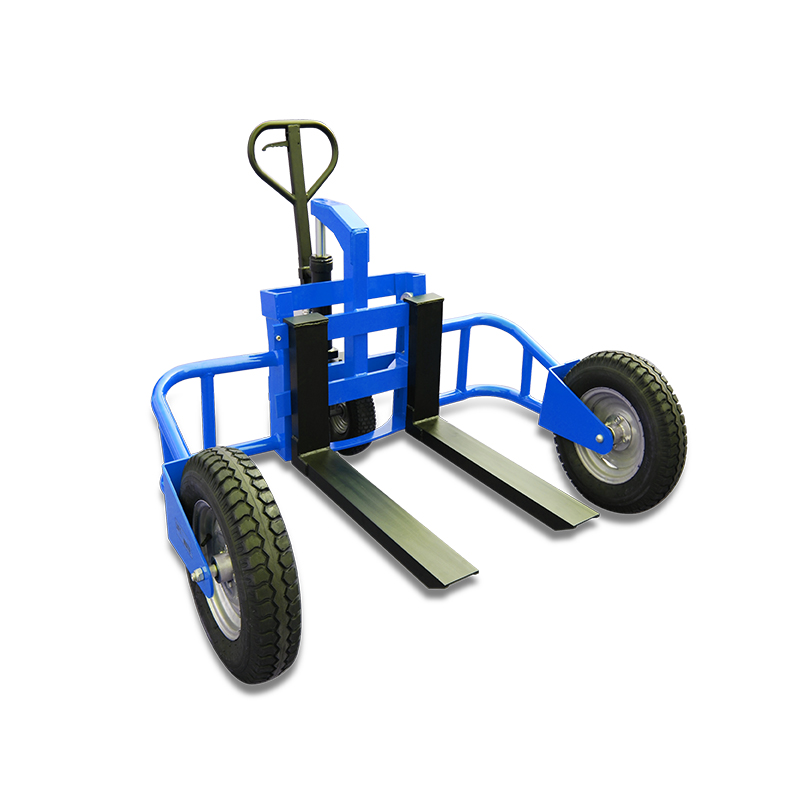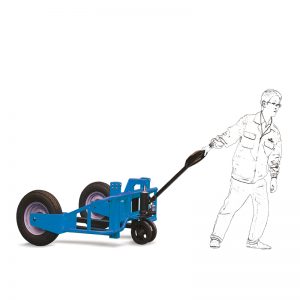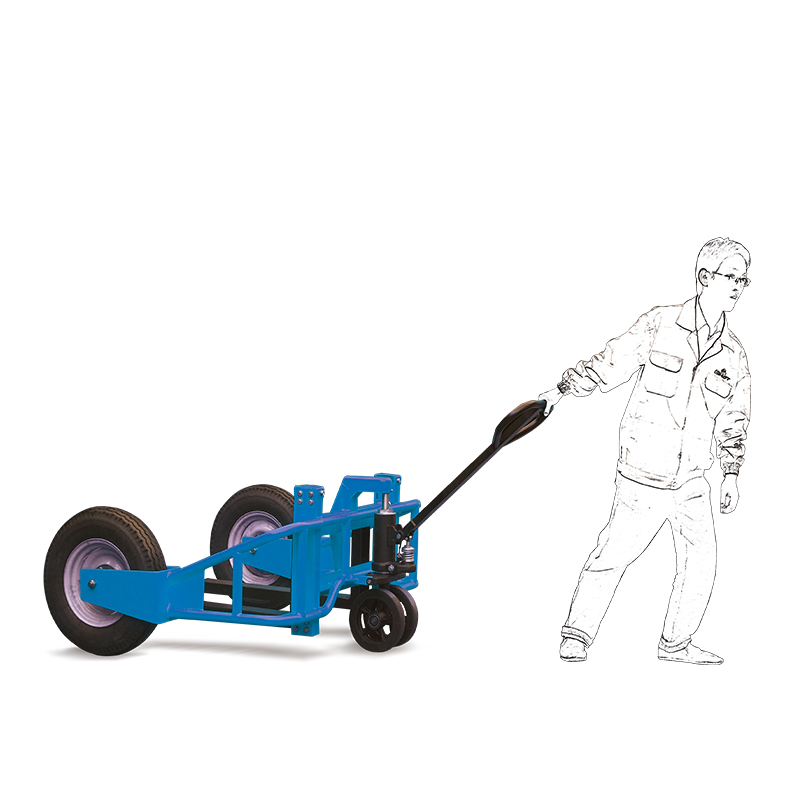 i-Lift No.
1111302
1111303
1111305
Model
RP1000A
RP1250A
RP1500B
Capacity
 kg(lb.)
1000(2200)
1250(2750)
1500(3300)
Max.fork height
 mm(in.)
240(9.4)
323(12.7)
Min.fork height
 mm(in.)
70(2.8)
53(2.1)
Fork Length
 mm(in.)
800/860(31.5/33.9)
820(32.3)
Adjustable fork width
 mm(in.)
216-680(8.5-26.8)
316-660(12.4-26)
Distance inside the front wheel
 mm(in.)
1230(48.4)
1279(50.4)
Front load wheel
 mm(in.)
568*145(22.4*5.7)
Rear steering wheel dia.
 mm(in.)
250(10)
350(13.8)
Turning radius
 mm(in.)
1500(60)
1200(47.2)
Overall size
 mm(in.)
1406*1670*1280(55.4*65.7*50.4)
1350*1711*1220(53.1*67.4*48)
As a pallet truck manufacture(pallet jack manufacture), i-Lift also have electric pallet truck, high lift scissor pallet truck, rough terrian pallet truck, hand pallet truck(hydraulic pallet truck), low profile pallet truck, stainless pallet truck, galvanized pallet truck, roll pallet truck, pallet truck with scale, skid lifter pallet truck, weighing pallet truck and so on.
---
The Rough Terrain Truck is suitable for using at construction site, factories, buildings and roads, transports various materials.
1) Because its two front wheels and two steering wheels, the terrian truck is suitable for any condition of the road. And the front wheels are pneumatic, it can reduce the friction force, minish the vibration. You can operate it easily and steadily.
2) Because the steering wheels are wider and solid, it enhances the carrying capacity, reduces the deformation. It is flexible to change direction lightly and handily, which improves the adaptability in ground, makes the truck be steadier, and increases carrying security.
3) Because of the double action pump, the work efficiency has been improved greatly.
4) Because of the higher lifting height, it extends the distance of the truck to the ground to suit for uneven and complicated ground.
5) Because of the adjustable fork, it can be suitable for material of different shapes. It makes the transportation more convenient and reliable.
Safety Guide of Terrian Truck
1) When operating the truck must be careful, especially at the corner and the slope.
2) Do not put the load on the fork for a long time. When operation is finished, you should lower the fork to the lowest position.
3) Do not lift person.
4) The working temperature is -20℃~+40℃. If you want to operate the truck in cold area, must use low-temperature-hydraulic-oil.
5) When it is not used, make sure put it into the garage instead of outdoor.