i-Lift heavy duty range stationary foot pump scissor lift table is a single-speed foot pump hydraulic scissor table designed as a stationary ergonomic work stage.  Each unit comes with a foot pump to raise the table and a foot operated valve for lowering. The deck of the foot pump lift table is constructed of 10 gauge steel and will pivot up for easy maintenance. Safety features include an internal brass velocity fuse in the cylinder which prevents the lift from falling in the event of sudden loss of hydraulic pressure.  A torsion bar is added for increased side-to-side stability. Table can be optionally equipped with either a remote A/C, D/C, Factory Air/Hydraulic Oil power unit or a manual two speed hydraulic foot pump. This foot operated scissor lift table is constructed of steel and painted blue. High-quality pumping station makes the lifting of the goods stable and powerful, and the safety bar device is arranged below the tabletop, when it encounters obstacles below the tabletop, it stops to descend to ensure safety. It is simple and labor-saving  with foot operated.
This FBX series foot operated stationary lift table has different models, FBX15, FBX25, FBX30D,FBX50, FBX80 and FBX100, they all with different capacity and different lifting height, so they can meet all kinds of lifting requirements.
Foot Pump Scissor Lift Tables are used by all types of manufacturing and warehousing facilities.Features torsion tubes for side to side stability, pressure flow control valve for controlled lowering, and foot pump. Rugged welded steel construction.
These compact and extremely maneuverable scissor lifts improve efficiency and worker safety. Ideal for use as portable workstations, machine feeding tables and load transporters. A simple to use foot pump raises loads weighing up to 2,200 lbs. to heights up to 54 in.
Several platfom sizes are available from 27.6x17.7in. up to 40x20.5in. to handle a variety of items.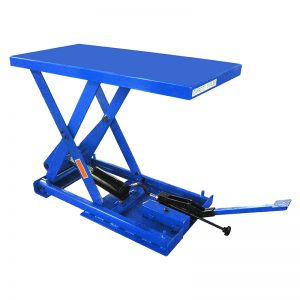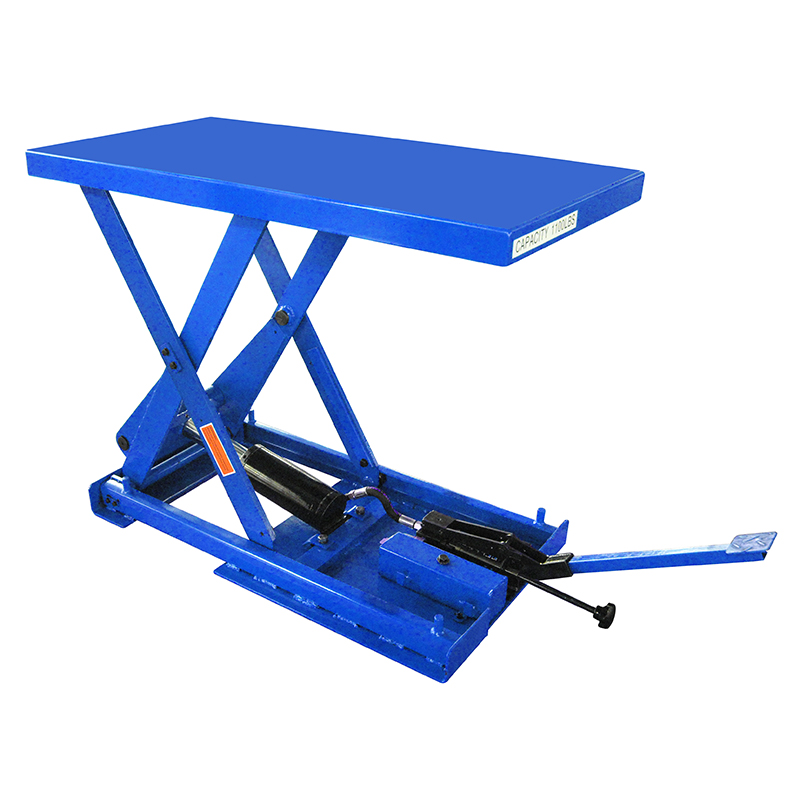 i-lift No.
1313701
1313702
1313703
1313704
1313705
1313706
1313707
Model
FBX15
FBX20
FBX25
FBX30D
FBX50
FBX80
FBX100
Capacity
 kg(lb.)
150(330)
200(400)
250(550)
300(660)
500 (1100)
800(1760)
1000(2200)
Table size
 mm(in.)
700*450
700*500
830*500
1010*520
(27.6*17.7)
(27.6*20)
(32.7*20)
(40*20.5)
Table height(Min./Max.)
 mm(in.)
127/533(5/21)
150/711(6/28)
240/1375(9.4/54)
150/800(6/31.5)
160/800(6.3/31.5)
Overall Size
 mm(in.)
730*450(28.7*17.7)
730*500(28.7*20)
850*500(33.5*20)
1030*520(40.6*20.5)
Foot pedal to max.height
30
40
47
55
70
80
---