PA series manual hydraulic hand stacker with latest techonology in hydraulic pump requiring less operating force. Top quality German seal kit avoiding the risk of oil leakage.
Heavy duty 1 piece "C" section forks for greatest strength. Optional adjustable forks for wide applications.
This hand pump operated lift truck is manually pump the handle to control the lifting of the forks. it is manual forklift stacker with manual lifting and manual moving.   Two steering wheels let it can be pushed easily and flexible and convenient turning which made it a very convenient, labor-saving but effiency hand stacker. The overall flexible and lightweight structure allows this pallet lift truck to be operated by a single person.
As a manual hydraulic pallet lift stacker, it has capacity from 500kg(1100lbs) to 2000kg(4400lbs) and lifting height from 1500mm(60inch) to 2500mm(100inch) . 540mm(21.3inch) fork overall width suitable for standard pallets. So this manual stacker truck can be used in warehouse, factory, workshop and even for home using.
The PA series Hydraulic Hand Stacker takes the effort out of a winch stacker with the aid of a hydraulic lifting mechanism. Constructed to be heavy duty for industrial environments, our PA hydraulic stacker trucks feature fully sealed hydraulics, double lift chains and fixed forks for ultimate stability and reliability.  Squeezing the trigger located on the hand lever safely lowers the forks in a controlled manner. Operator hands and fingers are protected against crushing risks whilst in use as a result of the safety guard fitted to the mast of every stacker.
Looking for a stacker to pass under a doorway? See our PA series with a double mast. This stacker has a low overall closed height  whilst the average door is 1981mm meaning you'll glide through with a breeze.
The hand stacker has model: PA0515, PA1015, PA1025, PA1515, PA2015 for your choice.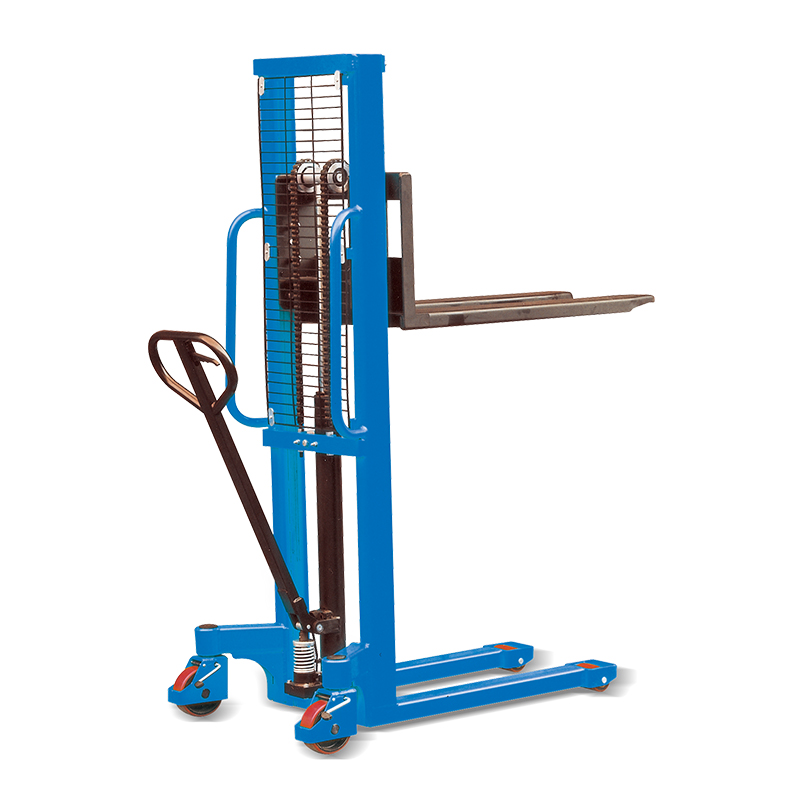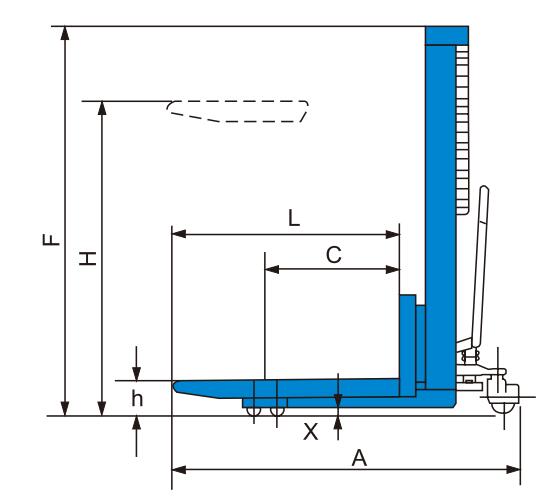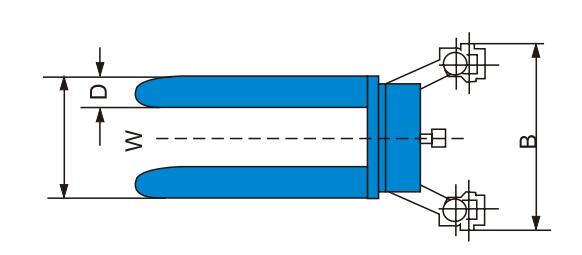 i-lift No.
1520401
1520402
1520403
1520404
1520405
Model
PA0515
PA1015
PA1025
PA1515
PA2015
Capacity
kg(lb.)
500(1100)
1000(2200)
1000(2200)
1500(3300)
2000(4400)
Load centre
C  mm(in.)
585(23)
Max.fork height
H  mm(in.)
1500(60)
1500(60)
2500(100)
1500(60)
1500(60)
Min.fork height
h  mm(in.)
88(3.5)
Fork length
L  mm(in.)
1150(45.3)
Fork width
D  mm(in.)
160(6.3)
Overall fork width
W  mm(in.)
540(21.3)
Lifting height per stroke
mm(in.)
20(0.8)
12.5(0.5)
10(0.4)
Grouond clearance
X  mm(in.)
24(0.9)
Min. Turning Radius (outside)
mm(in.)
1086(42.8)
1100(43.3)
Front load roller
mm(in.)
80*70(3*2.8)
Steering wheel
mm(in.)
150*40(6*1.6)
150*50(6*2)
150*50(6*2)
180*50(7*2)
180*50(7*2)
Overall length
A  mm(in.)
1604(63.1)
1604(63.1)
1646(64.8)
1665(65.5)
1695(66.7)
Overall width
B  mm(in.)
794(31.3)
760(30)
760(30)
720(28.3)
720(28.3)
Overall height
F  mm(in.)
2010(79.1)
2010(79.1)
1890(74.4)
2010(79.1)
2010(79.1)
Net Weight
kg(lb.)
210(462)
220(484)
330(726)
250(550)
280(616)
Video
As  a manual stacker manufacture, we have various models for option and we also accept customization, just let us know your requirements and you will get what you really need.
Operating Instructions: Using the machine for any purpose other than lifting material is unsafe.
1. Raising and Lowering Load
1) Please load centrally across the forks. Check the load diagram on the machine for correct load center position.
2) Raise the load by pumping the handle in the ASCENT position
3) Lower the load by setting the control lever in the LOWER position
2. Moving machine with a load
It is best to move the machine without load. Moving a raised load should be restricted to positioning for loading and unloading. If it is necessary to move the machine with a raised load, understand and obey the following safety rules:
1) Area is level and clear of obstructions
2) Load is correctly centered on the forks
3) Avoid sudden starts and stops
4) Travel with load in the lowest possible position
5) Do not tilt the machine back with a raised load by pulling the C-shape handle on the mast
6) Keep personnel away from machine and load
3. Moving machine on small slopes
The machine shall not be used on gradients. If it is necessary to negotiate small slopes for the purposes of moving the truck between building etc., understand and obey the following safety rules:
1) The gradient shall be no more than 2%
2) The machine shall be unloaded
3) The forks shall be facing downgrade
4.Actual operating capacity
The actual operating capacity of the machine is the responsibility of the user. It may depend on the operator, floor and machine conditions and frequency of the load handling cycle
If the load exceeds the actual operating capacity, the operator must be assisted by one or more persons.